Winning the race in China – Ctrip Report from EyeforTravel

With a near monopoly on Chinese outbound travel and mobile engagement in its home market other brands would kill for, Ctrip has become an online travel powerhouse. They're the fastest growing global OTA, the largest online consolidator of travel and accommodation in China, and the third largest OTA in the world.
The Chinese outbound travel market is growing at year-on-year at a rate of 16.4% and is expected to be worth over $135 million by 2020. Clearly, Ctrip have their finger on the pulse when it comes to the complexities of the complexities of the Chinese outbound traveller, behaviour partners and emerging trends. Having this level of understanding is of paramount importance for anyone looking to secure a place in the booming Chinese travel market.
To reflect this increased interest in China, EyeforTravel has created a report detailing Ctrip's stratospheric growth and exploring what the future holds for this rising star of online travel, both as regional and global travel players.
Download your copy of the report using the form on the right >>>
The keys to Ctrip's success: get a better understanding of Ctrip's market share and understand how they have developed a successful mobile strategy, as well as the impact that alternative accommodation providers could have on them
Joining forces: understand how market consolidation and acquisitions have been driving forces behind the growth and dominance of Ctrip within China's travel market
More than a booking platform: discover how, by offering everything from hotels, tours, and now transport ticketing, Ctrip's success has been propelled by its one-stop-shop approach to travel
Plus... get over twenty detailed figures, tables, charts and diagrams relating to Ctrip and the wider Chinese travel market.
Ultimately, this report is packed full of useful stats and information that will help you appeal to Chinese customers and penetrate the Asian market.
Fill in your details & get the tools you need to appeal to Chinese tourists >>>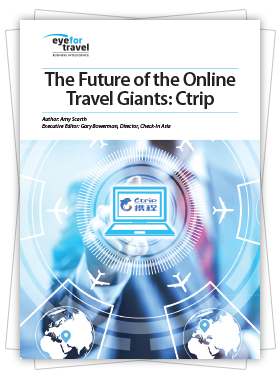 EyeforTravel Limited, a registered company in England and Wales - Registered Number 06286442. 7-9 Fashion Street, London, E1 6PX, UK
Discover the tools to success in China today
Get your hands on this report to find out how Ctrip became the world's second largest OTA.
Helen Raff
Chief Product Officer
EyeforTravel
Tel: +44 (0) 207 375 7582
Toll Free: 1 800 814 3459 ext 7582
E: helen@eyefortravel.com