In EyeforTravel's recent analytics and AI survey, a staggering 65% of travel executives said AI is going to revolutionize travel.
This was one of many insightful stats found in EyeforTravel's 2019 Analytics and AI survey, which took data from over 250 travel executives.
Whether you agree with this statistic or not, these exclusive survey results will see you benchmark your AI and analytics investments with the rest of the industry.
Get all the results using the form on the right >>>
Headline Stats that are affecting your business:
14% of respondents found converting data into actual insight to make decisions was one of the biggest challenges in the effective use of analytics.
18% of the industry predicted hyper-personalization efforts to benefit from AI most
A shocking 1% found AI to benefit customer lifetime value
Whether these stats resonate with you or not, download the results now to get the full story and discover where the industry sees challenges and the golden rewards in data and AI.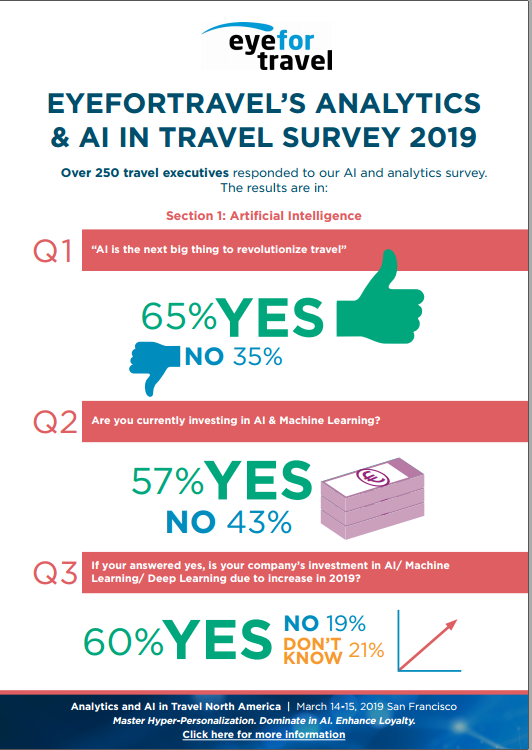 Get the full results using the form on the right >>>
Reading these results will give you unique insight into:
Which travel department has the most to gain from analytics
If deep learning and machine learning investments are set to increase in 2019
The analytics tools that are going to be most transformative for your business
If AI will disrupt your role for the better or worse
Download the full results using the form on the right >>>
Kind regards,
Get your hands on EyeforTravel's Analytics & AI Survey Results 2019 and Benchmark Your Investments

EyeforTravel Limited, a registered company in England and Wales - Registered Number 06286442. 7-9 Fashion Street, London, E1 6PX, UK
Leo Langford
Global Conference Producer
EyeforTravel
Email: leo@eyefortravel.com
+1800 814 3459 x7158 (US)
+44 (0) 207 375 7158 (Global)

Download the survey results right here!
Read the results to learn:
Who should be responsible for AI
If machine learning is expected to disrupt your role
Which data sources are most important for your bottom line
Just fill in your details to download the brochure now: