The biggest AI, Analytics and Pricing event in Travel

Analytics & AI in Travel North America will bring together over 350 travel decision makers from the industry's AI, data, revenue management, and marketing sectors.





Is your data and AI strategy intelligent? This event unites the travel industry with Silicon Valley in pursuit of hyper-personalization, unprecedented revenue growth and loyalty.





The big issues that will be addressed:
Are you predictive enough? The very essence of hyper-personalization will take front and center at this event
Executing the killer marketing message. Customers are inundated with choices, is your message converting them?
Has anyone actually achieved personalized pricing? Meet the rare few who have put personalization into action and move your profit needle
Lateral thinking in technology is risky. Rub shoulders with the risk takers who have actioned natural language processing, AR & VR and superb UI to go big with market share

Get the full list of sessions and speakers by filling out your details on the right >>>

Join 40+ speakers from the highest echelons of the travel industry:
VP of Hotel Supply – Hopper
SVP Analytics – Hilton
Global Product Partnerships – Google AI
Principal Data Scientist – Carlson Wagonlit
Head of Performance & Analytics – WestJet
Vice President of Global Revenue Management – Wyndham Hotels and Resorts
VP, Data Science – Allegiant Air
Head of Loyalty and Social Engagement – Viceroy Hotel Group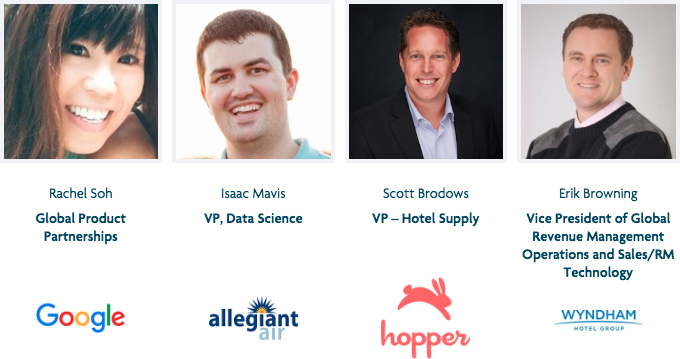 Discover who all the travel leaders are by filling your details on the right >>>
Alongside
advanced predictive analytics
and
integrating AI
, a huge
digital marketing
and
mobile
aspect has just been added to the event. What will be covered:
The customer is more elusive than ever. Know your customer in a multi-channel world to seal the direct booking
Don't be one of the losers of voice – drive voice enabled personalization
Social proof goes a long way, use the rich and famous to make your brand fly
UI and UX now equals loyalty. Dominate in mobile to win the race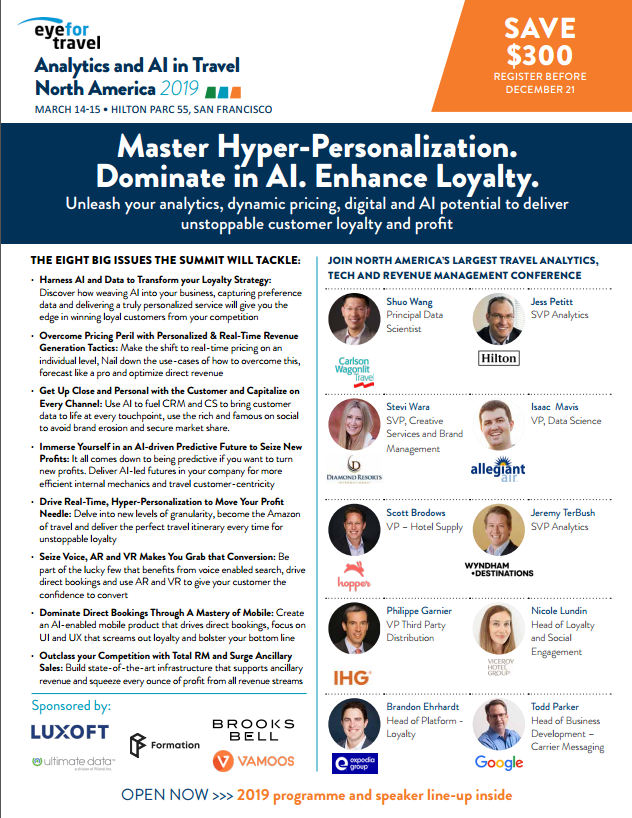 Check out the full two-day agenda by downloading the brochure now >>>
What you'll get out of attending?
Over 20 hours of networking over coffee or wine with travel's machine learning and data community
Full access to the networking app giving you a direct connection to the entire alphabet of travel
Two solid days of insight with world leading brands including Expedia, Babbel, IHG, Diamond Resorts, Lufthansa, Formation AI and Cornell!
Get in touch if you need more convincing,





Best regards,



EyeforTravel Limited, a registered company in England and Wales - Registered Number 06286442. 7-9 Fashion Street, London, E1 6PX, UK
Leo Langford
Global Conference Producer
EyeforTravel
Email: leo@eyefortravel.com
+1800 814 3459 x7158 (US)
+44 (0) 207 375 7158 (Global)

Download the brochure for Analytics & AI in Travel North America right here!