Analytics & AI in Travel North America brings together data, analytics, pricing, product development and digital marketing experts from the world's leading travel companies. And with a new focus on AI and Machine Learning - we're predicting 350+ senior attendees.

The event will address the biggest opportunity in travel right now – hyper personalization. You'll also explore how dynamic pricing; digital marketing and attribution modelling are being bolstered by an intelligent approach to data. You'll come away with the tools you need to win the race for customers and generate loyalty in an dis-loyal world.

To be the first to see the list of speakers, complete your details in the box on the right and receive the conference brochure >>>

New for 2019, we've added new tracks and sessions which cater for revenue and pricing executives, as well as those involved in product development. And there's a strong focus on customer lifestyle data, customer services and CRM. Finally, we'll delve into the latest tech innovations around mobile, UI, AR/VR and voice.



Check out the full two-day agenda by downloading the brochure now >>>





A two-day agenda designed to tackle the biggest issues in analytics and AI:

Drive true hyper-personalization in marketing, product offering and pricing to guarantee loyalty
Couple big data with the right AI and machine learning strategy that predicts, converts and makes you cash
AR, VR and Voice that makes your customer convert - Win the race for best adoption and own the customer
Make Total Revenue Management a reality and optimize all ancillary channels whatever the season
Develop dynamic and personalized pricing to smash new levels of granularity and supercharge sales
To receive a copy of the final agenda, download the brochure now >>>
Attend the only AI and Analytics event in Travel and hear from 40+ top-notch speakers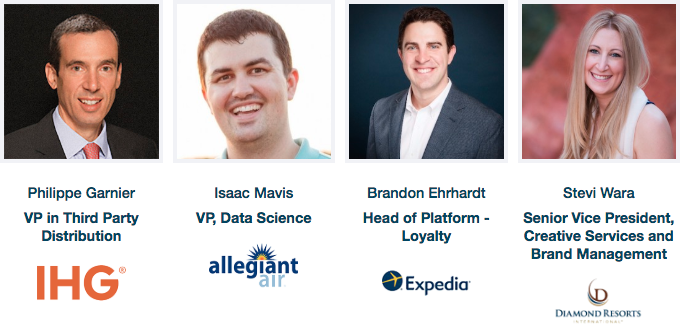 Download the agenda now and view our detailed 2-day agenda...


Industry Innovation and Strategy: Keep up to date with the industry, with exclusive insights on the hottest trends and technology influencing travel companies
Practical Tools to Turbocharge Your Analytics Capabilities: Get insider knowledge on how to ensure your analytics is fulfilling its potential
Unparalleled Speaker Line-Up: Bringing together the innovators and industry leaders to provide delegates with best-practice and innovative strategies
Turbocharged Networking: In the largest gathering of data and analytics experts in travel, and now the AI trailblazers have joined too, this is THE best place to meet your peers and build your network
Enter your details on the right to reserve the brochure and get a full run-down of speakers >>>
Download the brochure now and you'll read about our:
Cutting Edge Industry Case Studies: Uncover the key issues and opportunities for analytics, AI and digital marketing
350+ Executive Attendees: Discover the senior leaders who will be joining North America's biggest forum for travel executives to debate data
Networking Opportunities: Get a sneak preview of the awesome networking activities from roundtables, workshops and drinks parties!
Check out the brochure now for a full list of speakers >>>
Please let me know if you have any feedback, or if you want to get involved with the event.


The biggest AI, Analytics and Pricing event in Travel - Request your brochure right here!

EyeforTravel Limited, a registered company in England and Wales - Registered Number 06286442. 7-9 Fashion Street, London, E1 6PX, UK
Leo Langford
Global Conference Producer
EyeforTravel
Email: leo@eyefortravel.com
+1800 814 3459 x7158 (US)
+44 (0) 207 375 7158 (Global)

Download the brochure for the Analytics & AI in Travel right here!

Check out the first event dedicated to AI and machine learning in travel. You'll benefit from:
350+ Senior-level insurance executives from analytics, pricing, digital marketing, innovation and product development
40+ Heavyweight speakers taking centre stage
30+ Sessions drilling down into the most vital issues in AI and analytics
20+ Hours of unrivalled networking