Pre-order your copy of the event brochure today
Complete your details in the box on the right >>>
The EyeforTravel: CX Strategy Summit Europe has been set up to address your most pressing questions in relation to customer experience in the digital age.
Bringing together C-Level executives from Europe's top travel companies, the event will give you the skills you need to establish an effective strategy to maximise brand exposure, boost sales and champion CX.
The Industry's Most Influential Leaders are Attending
So far, the following executives are speaking: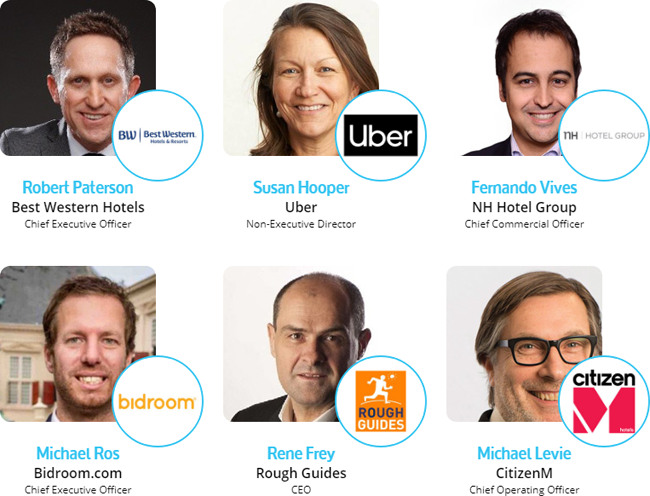 Stay up-to-date with the speaker list by agreeing to receive event updates from us in the link on the right.
Why You Cannot Afford to Miss the Most Influential Travel CX Conference of 2019
CXOs on all keynotes: hear from the biggest names in travel about the latest consumer trends, the future of the industry and how to safeguard your company against unprecedented challenges such as Brexit, travel bans and economic instability.
Results-driven sessions: receive practical and objective, take-away advice from the minds behind the biggest names in travel about how digital transformation can enhance your customer experience and drive profits.
Custom-designed for eCommerce, Innovation, Marketing & Strategy for Hotels, OTAs and Airlines: join a platform for collaboration with an agenda devised solely with your development in mind, take part in interactive sessions run by speakers who have been on the same journey as you and take part in engaging discussions on your most hard-hitting questions.
World-renowned networking: attend the European travel industry's most acclaimed networking event and make valuable partnerships to boost your CX, grow your business and make your brand stand out.

I'd love to chat through the agenda and help you work out if it's a good fit for you, so please let me know and we can set up a call.
Kind regards,
Ana
Be the first to hear about the best CX Strategy Conference of 2019

EyeforTravel Limited, a registered company in England and Wales - Registered Number 06286442. 7-9 Fashion Street, London, E1 6PX, UK
Pre-order your free brochure now
Complete your details below to receive the full event brochure pdf, which includes:

Full speaker line-up
Complete agenda and key themes to be discussed
Breakdown of networking opportunities throughout the two days