Your roadmap to delighting customers and driving conversions
EyeforTravel Limited, a registered company in England and Wales - Registered Number 06286442. 7-9 Fashion Street, London, E1 6PX, UK



Download your brochure





Fill in your details below to discover the only travel event you'll want to go to this year.




Join the travel trailblazers: budget for innovation, implement company-wide digital transformation and optimise your data to offer hyper-personalised experiences
With global tech giants prepared to dominate the travel industry, it is imperative that you take the steps necessary to stay relevant and compete in the new travel arena. The key lies in embracing company-wide digital transformation and delivering a superior customer experience. Find out how at the Digital Strategy Summit 2019.
Because that's where you'll get the tools and knowledge you need to reduce acquisition costs, drive conversions, take back control of your inventory, optimise your data and use the latest technologies to become more efficient and provide a truly personalised customer experience.
Drop your details in the box on the right and be the first to receive details on:
Who you'll meet among 350+ executive attendees: Discover the senior leaders who will be joining the ONLY event to provide strategic, implementable tools to design a future plan for success
Cutting-edge industry keynotes, case-studies and debates: Conquer key challenges, discover new opportunities and deliver unprecedented business efficiencies
How to do business onsite: Get a sneak preview of the awesome networking activities from roundtables, workshops and drinks parties!
Exclusive discounts on registration you won't find anywhere else!

Hear from 50+ of the brightest minds in the travel industry including: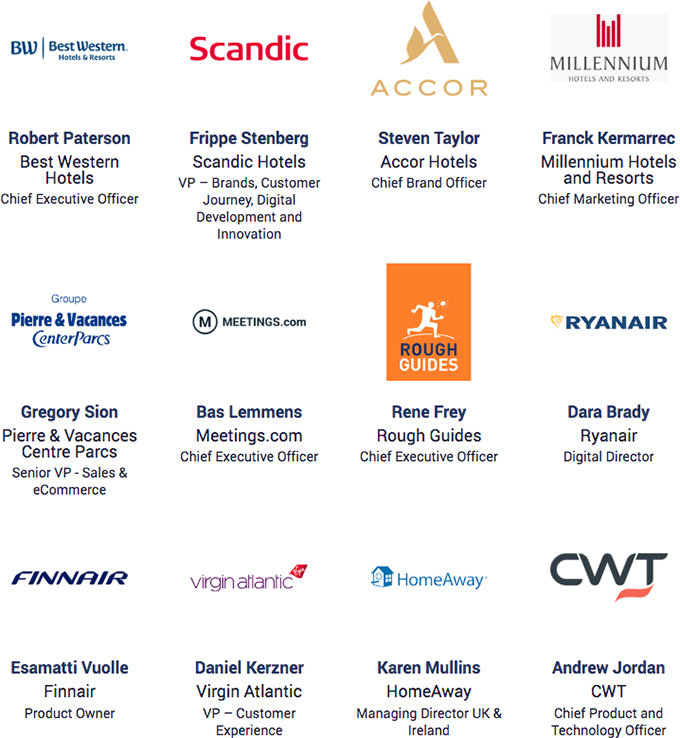 Walk Away with Practical Strategies for Transformation:
Cross-company digital reform: discover how to drive innovation across your company and leverage the digital eco-system to boost efficiency and drive profits


Drive profits with partners: calculate the ROI of your distribution partnerships, developing a more pragmatic partnership strategy and making ancillary products available on the company website


Cut acquisition costs & innovate: learn how to drive direct bookings and get around burdensome commissions and reshape your budget to allow for more innovation


Revitalise your CX with technology: hear from brands using the latest technologies from artificial intelligence to drone cameras to boost the customer experience and build engagement


Access untapped revenue streams: discover how to appeal to the Chinese travel market, implement reforms to appeal to millennials and discover the power of the niche travel brand

By attending this event, you'll benefit from:
350+ Senior-level travel executives from digital, eCommerce, marketing & operations
60 speakers, all VP-level and above
40 results-driven discussions, drilling down on the most vital issues
10+ hours of unparalleled networking opportunities

Enter your details on the right to keep up to date with all conference developments.
Kind regards,
Helen
Helen Raff
Chief Product Officer
EyeforTravel
Tel: +44 (0) 207 375 7582
Toll Free: 1 800 814 3459 ext 7582
E: helen@eyefortravel.com